PRIME WATERNESS
Prime Yoga under Water & with Water
The Dolphins Teachings
Based on his experiences with dolphins, LUIS developed prime yoga practices  applied under water and with water, coined in a e-booklet with title "waterness"
Water is a key element for organic life, as well its matter-qualities and states are a key for alchemy and emotional self-management. It is a key for continues self-sustained embodied consciousness and lovability (prime love).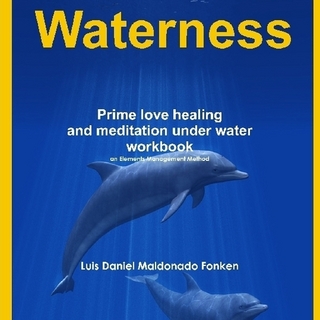 ABOUT the e-book: "The workbook offers you insight,selfdiscovery process and advice for the experience of waterness practices underwater. The waterness meditation workshops have been created by Luis Daniel Maldonado Fonken, inspired by his encounter with dolphines, and their teachings about human joy, life, nature, communication, collaboration and collective awareness he received from them. Inspired by his inmediate close and long distance, empathic-telepathic and spiritual experience with dolphines, by experiencing the multidimensions and language, wisdom and knowledge of water, along many years, since 1999, L.D.Maldonado Fonken have been facilitating Aqua workshops, enhancing individual and collective awareness, as well as facilitating a reconnecting, bridging experience for his students, in relation to the water nature of human beings and the symboles and archetypes of water. A complete self study set of additional themes workbooks tandem video practices and videos is available under request."
PRIME WATERNESS practices utilize the e-book as reference and apply its principles into other prime yoga practices, as well LUIS developed since 1999 other waterness practices not published yet but thought to his close students.